Cuban Beef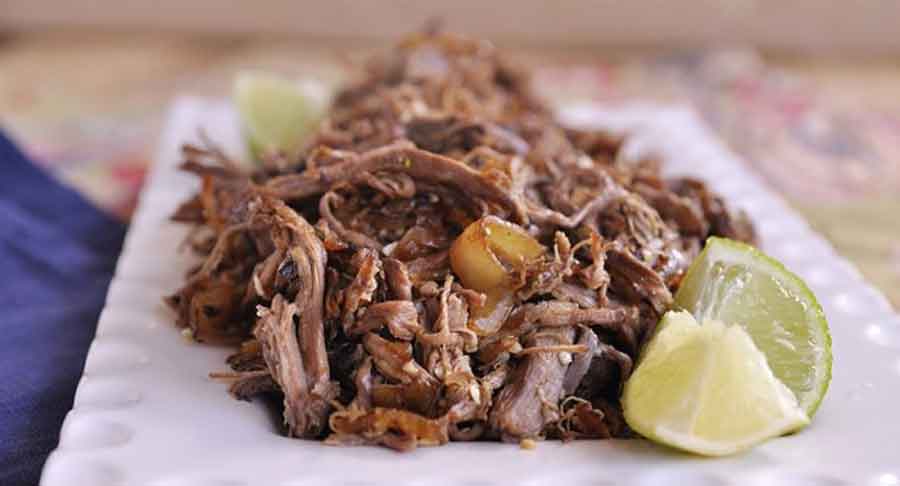 Ingredients List

1 boneless beef chuck roast
1 teaspoon dried oregano
1 teaspoon ground cuminsalt
Pepper
2 teaspoons vegetable oil
1 large onion
1 large green pepper
1 large red pepper
2 cloves garlic
2 tablespoons water
1 can crushed tomatoes
½ cup pimiento-stuffed green olives
Method
Combine the oregano, cumin, and ½ teaspoon salt and ½ teaspoon pepper; rub the seasoning mixture onto the beef chuck roast. Heat vegetable oil in a skillet on medium-high heat, add the roast, and brown it on all sides. Place the browned roast in the crock of a 7-quart slow cooker.
In the skillet, add the green and red peppers, onion, garlic, water, and ¼ teaspoon of salt. Cook for 4 minutes or until the vegetables soften. Add the tomatoes, and simmer for 4 additional minutes, stirring occasionally. Place the mixture in the slow cooker. Cover the slow cooker, set it on low for 10 hours, and cook until the beef is tender.
Discard the fat and any gristle from the meat. Shred it, and then transfer the vegetables from the slow cooker to a bowl. Stir in the shredded meat, the olives, and ¼ teaspoon of salt. Serve the meat over Spanish rise, garnished with parsley.