All Clad Slow Cooker Reviews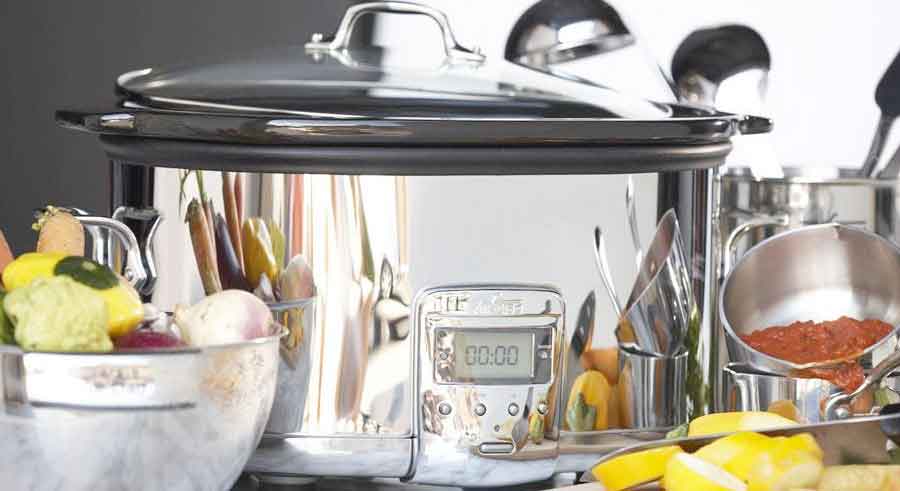 Celebrating fifty years of excellence, All-Clad brings you an assortment of performance culinary tools tailor made for your individual needs. Founded in 1967, this American company started in metallurgy and now produces high quality cookware made from American-made metals by American craftsmen. Over the years, the brand has built a reputation of providing durable, long-lasting products backed by great warranties and tons of features. In addition to an extensive line of pans, whisks, toasters, skillets, and other tools, All-Clad presents an array of professional cookers available in your choice of three sizes.
Whether you need to cook for a family or a festival, you'll find the right size cooker with All-Clad. The four-quart cooker is ideal for smaller meals. This size slow cooker should suffice if you are feeding two to four people. If that's not enough, try out our five-quart cooker complete with all-in-one browning. You may want to also check on best programmable crockpot model for a good comparison. When you need the ultimate cooker, you'll find it in the large seven-quart cooker, available with or without in-pot browning function.
All Clad slow cookers make it possible for you to prepare a great home cooked meal for your family any day of the week, no matter how busy your life may be. Although the company is one of the top of the line names that you can depend on, the company strives to price their products, including slow cookers, competitively to others on the market, so no matter what kind of budget you have set, there is an All Clad that will perfectly work for your needs. Be always sure to check on recommendations and model comparison if you consider buying online on or a physical store.
The All Clad slow cooker reviews found on the web are worth looking at, as they reveal just how satisfying the brand, and their amazing slow cookers, have been for so many that it go on a comparison with best Hamilton programmable crock pot. Continue reading and we will discuss the slow cooker options you have when you want the All Clad brand in your kitchen.
| Model | Quarts | Programmable | # of Temperature Settings | Price |
| --- | --- | --- | --- | --- |
| All-Clad SD700450 Oval-Shaped Slow Cooker with Black Ceramic Insert and Glass Lid | 6.5 | Yes | 2 | |
| All-Clad Deluxe SD712D51 Slow Cooker with Cast Aluminum Insert | 4 | Yes | 4 | |
The 4-Quart All Clad Slow Cooker
The All-Clad four-quart cooker is designed of stainless steel and is fully programmable. Simply set the cooker in the morning and come home to a fully cooked dinner made just at the right time without the hassle and headache that comes along with the conventional means of cooking. It doesn't matter what is tempting the tummy that you want to prepare for yourself and your family, this slow cooker makes it possible. Its elegance and charm are quite amazing, and it look with this slow cooker, simply toss in the ingredients and the rest of the hard work is taken care of for you. With three temperature modes, warm, low and high, healthy, it is always simple to choose just the right amount of cooking time for any meal that you are preparing.
This 4-quart All Clad slow cooker makes it easy to create delicious meals without taking up a lot of counter space, with easy to operate functions. The push buttons on the slow cooker make it much simpler to see and to use. They are also ergonomic, saving our hands or fingers from any pain. The slow cookers offer integrated handles for easy transport of the machine and with stay cool silicone wraps, you wont ever worry about burning yourself. You may also make a healthy comparison with top-ranking Cuisinart crock pot model.
Furthermore, All Clad always ensures that safety is a top priority in their products. Once the cooker is finished the cook cycle it automatically switches to the "warm" mode to keep your food at just the right temperature and to prevent the risk of a fire. Clean up is a breeze too with the dishwasher safe glass lid and aluminum insert. Toss them into the dishwasher and the mess is taken care of for you! This slow cooker is great for two to four people and is friendly priced to meet your budget. Read this page to get more 4 qt crock pot model reviews.
The All Clad 5 Quart Cooker
The stainless steel 5-quart slow cooker from All Clad is yet another of the best models offered form the brand, as well as one of the most popular and best rated selling of the models made from the brand. This product features browning features with a removable insert so you can also use it atop the stove should you desire. The stainless-steel design adds immaculate décor to any kitchen, and the many benefits offered with this 5-quart bad boy are tremendous.
Aside from the fact that it has browning features that you can use on the stove, this easy to us slow cooker features a programmable design so you can set it and forget it. But that's not all. There is also an awesome LCD control panel that makes it easy to get the meal going and get on with life.
There are three cooking modes on the slow cooker, including low, high/low, and high. You can also choose your own temperatures so that, no matter what you are cooking, it comes out perfect every single time. The slow cooker has four cooking programs, so like most of the models, it is also versatile. Go on check Ninja cooking system reviews for similar crock pot function. There is a 20-hour programmable timer on the slow cooker, a 6-hour warming feature, and a whole lot more. This slow cooker can cook up to 5 quarts of food at a time, so it is great for a family of 3 to 5 people. The size also makes it one nice for events, so if you plan to attend potlucks, church events, etc. this slow cooker is a good choice.
As far as a warranty is concerned, you can purchase this slow cooker with peace of mind, thanks to an extended warranty of three years. There is so much to love when this slow cooker model is your purchased choice. Navigate to this website for some more All Clad slow cooker information.
The 7-Quart All Clad Slow Cooker
On the larger end of the All Clad slow cooker spectrum is the 7-quart model. This model is suitable for a family of six, but many families of 4 like tis size because it provides the chance to prepare a little extra for leftover.
This is also the best choice slow cooker for the cooking professional. With browning capabilities, a programmable design, and a host of other features, this is the perfect slow cooker to cater to your needs. At a massive 1350W, whether you have a large family, love to entertain guests, or cook for small events, you'll love the large capacity offered by this cooker. The cast aluminum insert features a dark copper finish and ensures an even heat throughout. Use the insert in the slow cooker or remove it and use directly on the stovetop, gas or electric. Not a fan of programmable slow cookers? Head over to our best manual slow cooker reviews and check out some rocking manual crock pots.
Just like the five-quart cooker, the seven-quart size also comes with included rice cup and steam basket and features four cooking modes, slow cook, brown, rice, and steam. It is so nice when a product offers versatility, and this is one that does just that. You can purchase fewer kitchen appliances when you have one that brings to you such versatility. The programmable feature lets you go about your busy day while your meal cooks and is automatically held at the right temperature until you're ready to sit down to a delicious meal. This, of course, is also a safety features that help keep you and the people that you most love safe if you are cooking when away from home. And of course, the removable insert has a non-stick coating and is dishwasher safe as is the glass lid. There Is also a nice warranty to complete the purchase. This may very well be the model you've searched to find.
All Clad Reviews Help You Find what you need
Choosing a slow cooker is never easy because you want to get the very best from the start, without going broke in the process. That is why it is important to always take advantage of those free reviews that are all over the web waiting for you. In this case, it is the All Clad slow cooker reviews that you can use to help you in the process of selecting the best slow cooker around. Thankfully, All Clad has a quality American made cooker for everyone regardless of your needs. There are slow cookers for families of all sizes and budgets. Although the brand is sometimes a bit pricier than some of its competition, the extended warranties and extra durability make spending a few extra dollars well-worth the expense.
The brand has earned a wonderful reputation and has been around for many years now, giving you even greater confidence in the purchase that you make. Programmable features let you set it and forget it, and clean-up is always easy with removable non-stick inserts and dishwasher safe glass lids. Durability is, of course, something that All Clad has, so when you purchase a product from the brand, there is nothing to worry about. From preparation to washing, All-Clad gives you more time to enjoy your day and sit down to a perfectly cooked meal at the end of the day without breaking a sweat or without a pile of dishes waiting for clean-up.
Take advantage of the All Clad slow cooker reviews that are out there, research the brand and each model that we've listed here, and when all is said and done, you'll be the proud owner of an amazing All Clad slow cooker that exceeds expectations. Do not spend your money on a brand that is going to disappoint you when All Clad is around.
All-Clad Crock Pot Settings
Complete programming capability and a countdown timer, what more could you ask for from a slow cooker? Quality this is the one word that perfectly describes All Clad Slow Cookers, sure there are some models that didn't hit the mark but most of their products outperform other slow cookers on the market.
The good thing about buying quality products is--quality products are guaranteed to do what it says they do on the box. Take all clad programmable oval shaped slow cooker with black ceramic insert and glass lid. 6.5 quart silver sure it comes with the normal high, low and warm settings. You can get more details here about All-Clad crock pots.
What makes this particular slow cooker stand out from the crowd is its ability to distribute heat evenly; this ensures that your food cooks evenly and tastes better.
The problem with quality products is that they tend to cost more, understand that not all users will have positive experience with a slow cooker. This means that it pays to know who to contact when things go wrong. If you are having problems with your All Clad Slow Cooker the best thing to do is to contact the manufacturer or a dealer.
Recommendation
If you are looking for an all clad product that is easy to use, convenient, easy to clean and designed for performance I recommend that you get All Clad Oval Shaped 6 Quart Programmable Slow Cooker, why? This is a premium product that's worth its asking price.
This slow cooker has three settings high, medium and low; it also has push button controls and digital display. This makes it very easy to keep an eye on what you are cooking. Pop over to this website to have a hint of how this awesome cooker works.
The 20 hour programmable timer is way more than most people need, this offers you freedom to try any recipe your heart fancies. And did I mention that this slow cooker is very easy on the eye, look at it and picture it sitting next to you, scratch that, in front of you as you watch the super bowl. Can't get enough? Get the facts on your list and keep this model on top.
And don't forget if you buy an all clad slow cooker you will get 1 year warranty.
All-Clad Crock Pot vs. Other Slow Cooker
As a species we like to compare stuff, the good thing about comparing things we spend money on is it keeps us from making the wrong financial decisions. Take slow cookers for instance, there are many manufacturers in the market; this means that you have lots of options, so why should you pick All Clad over the others?
All Clad the company was established in 1971, this means that they have a lot of experience when it comes to kitchenware. What truly distinguishes All Clad products from the rest is ease of use.
Take the All Clad Deluxe 4 quart slow cooker with cast aluminum insert as an example, if you check customer reviews on Amazon, eBay, target etc you will find a lot of positive feedback. This simply means that people find this product of high quality that's why they recommend others to buy it.
What Benefits Do You Get if You Buy All Clad Slow Cookers?
Let's assume that you buy All Clad Deluxe 4 Quart Slow Cooker, the benefits include:
Less energy: all clad slow cookers use less energy thus they save you money
In built countdown timers and different temperature settings (depends on model)
You can use your slow cooker to cook different types of meals including beverages, appetizer, meats, desserts etc
Dish washer safe parts: for easy cleanup
The aluminum insert can be used to cook and serve
This slow cooker is fully programmable and comes with easy to read digital display panel
Note that user experience varies; there are people who have negative experiences with their slow cookers. For instance, the lid might not fit tightly. If this is the case what you should do is contact the manufacturer and the problem will be sorted out. You could also try this best Kitchenaid slow cooker model.
All-Clad Replacement Parts
The truth is nothing lasts forever, if you have a slow cooker sooner or later you will have to repair, find replacement parts or replace it with a new one. The problem with replacing a slow cooker is it costs you a lot of money (depends on what you are buying as replacement).
However, not all problems call for replacement, sometimes instead of buying a new slow cooker it is wiser to only replace what's broken e.g. if your cooking pot is damaged it is cheaper to only buy a new cooking pot.
If you own an All Clad slow cooker I have good news for you, if your slow cooker breaks down today or if you need replacement parts. You just have to head over to their website. Yup.
All Clad Retailers
All clad has a list of retailers on their company website these include:
Wayfair
Macy's
Chef's Resource
WILLIAMS-SONOMA
Amazon
Crate & Barrel
Metro Kitchen
Bed Bath and beyond
Cutlery and more
Bloomingdales
Kitchen Kapers
How to Shop Safely Online
Online safety is something that most of us never stop to think about, the problem is if you don't protect your information you might fall victim to scammers. If you stick to the retailers mentioned above the chances of you falling victim to something are lowered.
My advice is stick to familiar sites and be on the lookout for misspells or sites that have different top level domain names. Note that most scams lure you in with low prices or promises of winning something e.g. they might promise you cash.
If you regularly shop online you should check your statements at the end of every week, the idea is to look for fraudulent charges. If you find anything report it as soon as you can.
The devices you use to shop online should have strong passwords and you should have an antivirus/malware program to protect your information. If you are using Wi-Fi make sure that it's privatized.
​
What's My All-Clad Warranty
Most All Clad slow cookers are premium products; this simply means that they cost a pretty penny. If you check customer reviews or if you talk to people who use crock pots, you will find that not all slow cooker owners are happy with their slow cookers.
The good thing about buying All Clad products is you will get a warranty; a warranty is a guarantee that the company will replace or repair defects found on your slow cooker. If you want to know exactly how long your warranty will last all you have to do is read the instructions manual you find inside the box (normally 1 year).
It is also worth mentioning that if you misuse or abuse your slow cooker, you will have pay for replacement or repair out of your own pocket.
How to Void a Warranty
It is very easy to void your warranty, all you have to do is:
Fail to maintain and misuse your slow cooker e.g. leave it on with nothing in the pot
Make alterations to your all clad slow cooker that affects performance
Buy from shady sources e.g. from some guy behind a corner (fake/stolen)
Fail to consider problems excluded from cover (read instructions manual)
We all know that warranties eventually run out, when that happens you will have to cover all costs out of pocket.
Most of us never read user manuals when we buy stuff, if you are that type of person you should know that you are doing yourself a disservice, why? Manuals help you how to solve problems, stay safe and tell you what to do in case of something.
If you don't read the manual you may end up voiding your warranty or worse, my advice is if you buy any All Clad item read the manual first before you do anything.
​
Ideal Recipes for All-Clad Slow Cooker
Recipes, TV people make them seem very easy to follow. I remember one time I found a simple beans recipe.
All that was required of me was to put beans and other ingredients into my all clad slow cooker and let it cook for 2 hours. The problem is I didn't get the instructions right, the recipe required pre boiled beans.
I'm guessing you know what happened next? A slow cooker is just a tool, this means that ideal recipes for all clad slow cookers will still work with other slow cookers on the market.
All Clad Slow Cooker Recipes
The best place to seek inspiration or to find All Clad slow cooker recipes is on the All Clad website there you will find soups, sources, desserts, dinners, starters and breakfast and brunch recipes. My recommendations are:
Leg of lamb
Hen in the pot
Chicken schnitzels with capers and lemons
Chocolate soufflé
Omelet soufflé
Thomas English muffins
How to Create Your Own All-Clad Slow Cooker Recipes
Did you know that it is easier to come up with your own slow cooker than it is to follow someone else's? Sure, you can follow online recipes but the problem is the results may vary depending on how good you are interpreting information.
Making your own recipe is something that comes from your own mind; this puts you at an advantage.
Requirements:
Human guinea pig: friends, family or any one you can torture with your cooking
Source of inspiration: All Clad website is the perfect candidate for this
Basic cooking skill
If you dumb down the meaning of the term "cooking" it means boiling or applying heat to food until it's soft enough to eat. This means that there is a lot of room for experimentation, so try something today. You may head over to this crock pot cooking tips for an easier life.
Remember it is your kitchen thus you decide what to cook; if you are out of ideas seek inspiration.