What are the Best Slow Cookers?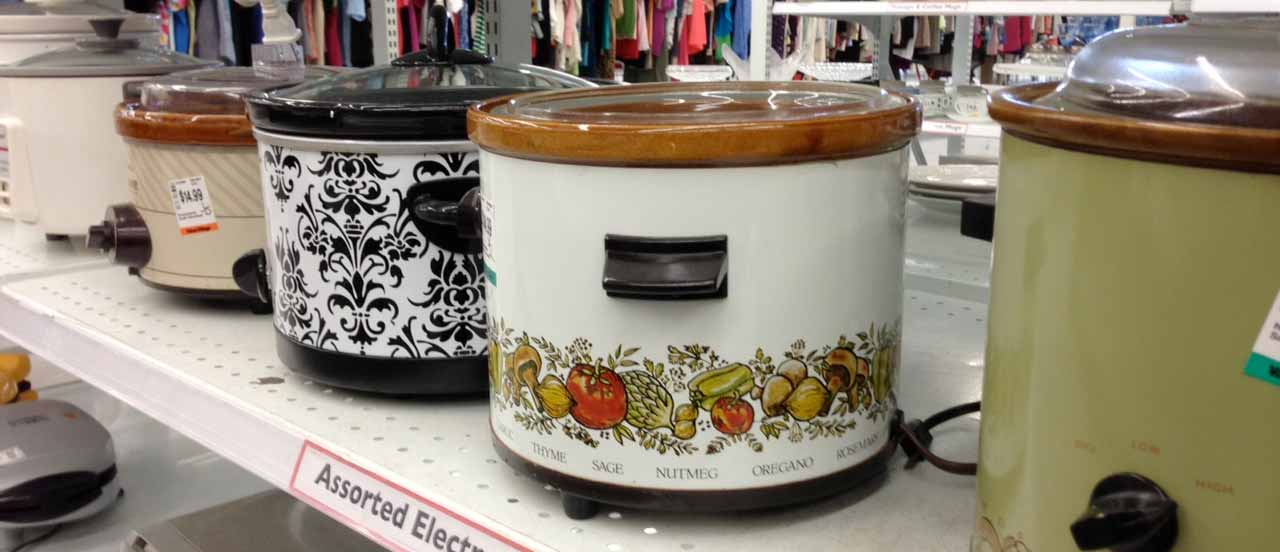 When it comes to putting a steaming hot meal on the table for your family, we believe nothing beats the efficiency of a slow cooker. The best slow cookers let you set up your meal up before you head out to work, turn the cooker on, and your meal awaits you when you return. Nothing could be simpler when you're looking to put home cooking on the table for your family. A unit like this lets you come home and relax – your dinner is already ready to serve and cleanup is a snap. Let's look at this food preparation method in more depth and do a rundown on the best units on today's market.
The best slow cookers are simple, but powerful appliance that will often last your family years and years and in these years you will create good memories and delicious meals. Whether you are new to this style of cooking or an old pro, everyone can enjoy it.
Before purchasing your first unit, it is wise to do a bit of research into the types of recipes you may want to use in the future; some recipes are catered to units of a certain size. It is best to do this research before investing in this product. Have a look at our useful comparison chart of a number of popular brands for you to compare. Check out some of our reviews and recommendations best rated models to buy online.
Model


Quarts

Programmable

Temperature
Settings


Price

Models Under $200

Crock-Pot SCCPWM600-V2 Wemo Smart Wifi-Enabled Slow Cooker

6


Yes

3

Cuisinart MSC-800 Cook Central 4-in-1 Multi-Cooker

7

Yes

4

KitchenAid KSC6223SS Slow Cooker with Standard Lid - Stainless Steel

6

Yes

4

Ninja 3 in 1 Cooking System


6


Yes

3


Models Under $100


Hamilton Beach Set 'n Forget Programmable Slow Cooker With Temperature Probe

6

Yes


3


Bella BLA13898 Diamonds Collection Manual Slow Cooker Black


6


No

3

Gourmia DCP-860 SlowSmart Digital Slow Cooker with Multiple Programmable Modes

8.5

Yes

4
Features to Look for in the Best Slow Cookers
While they add some value to your repertoire of tools in the kitchen, not all of these appliances are created equally. The superior ones have features that make them even more handy to use. Read full review to learn more about slow cooker features. A basic mechanical model has two to five power settings, including "off," "warm," "low," "medium," and "high." Most have no timer, so you'll need to monitor cooking time yourself, which is easily accomplished with a kitchen timer. See our review on Bella slow cookers.
A programmable slow cooker is a bit pricier, but it can allow you to program your cooking time for up to 24 hours of operation based on 30-minute periods of time. So, before you plan to buy one be sure to do your research and watch videos of how it works. This can be handy when you want a meal to start cooking a few hours before you get off work or have a special breakfast ready when you wake up.
A digital display is a good feature to look for when shopping for the best model. A display makes programming your unit fast and easy, and it also ensures that you can see how much time your food has been cooking and how much time remains in the cooling cycle.
The cooking insert is a vital component, so choose wisely. Some are metal, but most are ceramic. Choose one that has a nonstick coating to make cleanup faster, and look for one that you can use in the oven if you want to brown that French onion soup before you serve it.
Capacity is another consideration. Select a cooker that's slightly larger than what you actually need, not the largest, since you can't fill them to their tops. A 1.5-quart slow cooker is ideal for cooking for two people or making sauces and side dishes, while a family of four that normally cooks whole roasts or chickens need a larger model, such as a 6-quart.
How to Get the Most Out of Your Slow Cooker
Using this cooking style is simple and easy, but following tips from the pros can help you get even more out of your appliance. Professional chefs, commercial cooks and gurus advise:
Start with thawed food. Food should be thawed or fresh, not frozen, for the most successful results. Using frozen foods can allow for bacteria to thrive in the food while on its low setting, which can allow for foodborne illness. All meat and veggies should be fresh or fully thawed prior to adding them – with the exception being prepackaged meals for crock pots that are available in the grocer's freezer case.
Do not overfill the unit. Always buy a model that is large enough to accommodate the number of servings you usually make. It should be ideally one-half to two-thirds full, but not fuller. The units have lids that fit snugly on the top without having to wrap it in foil.
Cut foods into uniformly sized pieces for the most even cooking. Slow-cooking vegetables such as carrots and potatoes should be placed at the bottom of the pot, while meats should go on top.
Use high for warming up foods. Most recipes should cook on low; the high setting is generally for heating foods up or finishing off a recipe. It takes around twice as long to cook on the low setting as the high setting, and some recipes are suited for one or the other but not both.
Avoid peeking inside while your food cooks. Buy a model with a see-through lid instead. Taking the lid off releases enough heat to set the cooking time back by as much as 20 minutes.
Pick up a good cookbook that contains a wide variety of options so you don't get bored.
Purchase liners to make cleaning up effortless.
Benefits of Slow Cooking
These convenient appliances cook your meal at very low temperatures over the course of several hours. While each recipe has different heat setting and time requirements, the majority cook on low for 8 hours or high for 4 hours – making this a great way to "set it and forget it" until you return home from work, school, running errands, or whatever your day entails. Some of the best models allow for cooking at one setting for a programmed number of hours before kicking into a different setting for the remaining cooking time. This style of cooking is:
Easy to use. You don't need to be a master chef to throw a few ingredients together and turn it on or program it. This makes slow cookers ideal for people who are just learning to cook and seasoned home chefs looking to add versatility to meal prep.

Today's models are super safe to leave on all day while you're away.
Ideal for a healthy lifestyle. Food inside is cooked, not fried, which can translate to less fat and calories with many recipes.
Even the models on the market is still relatively cheap to purchase. Basic units usually offer minimal functionality but still yet get the job done, while pricier models take functionality to a new level with programmability and other features.
Available in multiple sizes. Choose from small 1- and 2-quart models up to those large enough to feed the whole gang.
Top Basic Slow Cookers to Consider
For many home cooks, a basic slow cooker is all that's needed for throwing together a pot of chili, some pasta Parmesan, or even a slow-cooked dump cake. Here's an excellent slow cooker brand overview for you to check too. Some of the basic models include:
Hamilton Beach 33182A: This slow cooker has the basic functions you'd expect and comes from a leader in small kitchen electrics – Hamilton Beach. In addition, it has a lid rest, giving you a mess-free spot for storing the lid while you serve. The lid rest flips up when needed and down again when you're ready to store the cooker away.
Proctor-Silex 33043 Slow Cooker: This simple unit offers a dishwasher-safe stoneware insert and four basic controls – off, keep warm, low, and high. The insert removes quickly for cleaning, and the unit has two handles on the side for easy transport. A clear glass lid allows you to monitor the progress of your food cooking inside.
Crock-Pot Cook 'N Carry: This model comes from Crock-Pot, the brand that launched the original slow cooker, so it's from a trusted name in the slow cooking niche. Its oval shape makes it ideal for roasts and whole chickens, and it has a locking lid that helps it form a tight seal during cooking, leading to more flavorful and juicier results.
Black+Decker SC20007D slow cooker: This cooker scores points for being pretty; its exterior comes in an array of colors to match your kitchen décor. Cool-touch handles make it easy to carry to the table to serve right from the cooker if desired, and the crock is removable for dishwasher-safe cleaning.
Crock Pot Casserole Crock: For making a casserole or lasagna to serve at home or at an event, Crock-Pot's Casserole Crock is hard to beat. This rectangular-shaped crock has an attractive exterior to make it table ready, and it has the basic functions you'd want in a mechanical crock pot along with a locking lid.
Top Programmable Slow Cookers
To take slow cooking to a higher level, a programmable slow cooker is a good choice. Programmable cookers are still easy to use, but they offer features not found in regular mechanical slow cookers. Most of these higher model come with timers which are not found in regular models. Some of the best slow cookers with programmable and other features include:
Cuisinart 3-in-1 Cook Central multicooker: This versatile cooker does more than just slow cook your food. You can also use it to brown and saute meats or steam vegetables or rice. It has a backlit LCD screen with programmable timing and heat settings, making it a powerhouse for busy home cooks. This is a high quality product. Read our awesome review and get more details on this product.

Frigidaire Pro-Select One-Touch programmable slow cooker: Use the six preset options on this slow cooker to achieve perfect results with your best slow cooker recipes and take the guesswork out of cooking time.
Hamilton Beach Set 'N Forget programmable slow cooker: This slow cooker has three different choices for easy cooking and automatic on and off. As a bonus, it comes with a thermometer probe attachment to ensure your roast and other foods are cooked to standard, and a clip-on spoon for easy stirring a serving. A gasket seal on the lid keeps heat inside like a boss for tender, juicy results. Check out here for more Hamilton Beach slow cooker models.
Gourmia Sous Vide & Multi cooker slow cooker: This revolutionary cooker offers eleven separate cooking functions, incuding slow cook, roast, rice, sous vide, and more. Easily cycle between functions using the programmable interface on the front of the unit. A nonstick aluminum crock removes quickly for cleaning, and it comes with a roasting rack and other inserts for expanded functionality.
Best Cheap Crock Pot
The Cookworks 5.5L electric slow cooker is an affordable appliance that is a little gem that is worth its weight in gold. The awesome thing about this slow cooker is. It performs as well as the most expensive Crockpots out there. This makes it the best cheap Crock Pot in the market this year based on customer reviews. Simplicity is the key word here–the Crock Pot is very easy to use, looks great and can feed up to six people. Therefore, if you are on a budget and want something that offers you value for money, you should go for Cookworks 5.5L slow cooker, believe me it is the best cheap Crockpot. Sometimes you can even find these on sale at great discounts online.

Be it a leg of lamb, pork, stew, chicken or anything else that you might want to come home to, the Cookworks 5.5L slow cooker has you covered. This is perfect for people who have very little time to spend in the kitchen, for instance, if you are a working mom and want your meat cooked to perfection. I recommend that you go for this model. All you will have to do is put it on your preferred setting when you leave for work, and when you come back your food will be done to perfection.
When it comes to cleaning you won't have much to worry about if you pick this model, it is very easy to clean and comes with the following features:
Removable ceramic bowl (allows for quick and easy serving and cleaning)
Large capacity 5.5L (can feed up to six people)
3 heat settings
Heavy glass lid
Keep warm function
What makes Cookworks 5.5L slow cooker the best cheap slow cooker is it saves you time, money, and it is very easy to use. There are cheaper alternatives but trust me this is the best cheap slow cooker in the market today.
Best Slow Cooker for One Person
Don't you just hate freezing leftovers? If you live alone you understand how important it is, to not have excess food in the home. All you need is enough food for now and maybe some leftovers for lunch. If you have a big let's say 6 quart slow cooker you will waste lots of food and in effect money or get sick of eating the leftovers, therefore the best thing to do to avoid that is to buy something a bit smaller. The top rated slow cooker for one person this is the Proctor Silex 33116Y Portable Oval Slow Cooker, 1.5-Quart.
This model is also perfect for parties and entertaining, my recommendation is use it for dips and appetizers. If you are planning a one man or woman trip, the proctor Silex Portable 1.5 Quart cooker comes with a rubber seal and lid latch that makes it spill resistant. If you chose to you can put it on a separate timer, the controls are easy to understand and it will take very little space in your kitchen or home. This makes it the best slow cooker for one person. You may also want to check our small crock pots review.
The proctor Silex portable cooker 1.5 quart comes with the following features:
Removable oval stoneware and lid (making it dishwasher safe)
Keep warm feature that doesn't overcook food
Lid latch strap and rubber seal to prevent spills
What makes this model great is it's portable, convenient, easy to use and safe. Oh and did I mention that it doesn't take up too much room in your kitchen or home? Therefore, if you are tired of wasting food you should get one today. Check out our best small slow cooker reviews for more detailed reviews.
Crock-Pot WeMo Smart WiFi-enabled Slow Cooker
If you're looking for a smart slow cooker, you should definitely consider the Crockpot WeMo Slowcooker. The following Crockpot WeMo Slowcooker review will acquaint you with the unique characteristics of this appliance. The biggest benefit of the Crockpot WeMo Slowcooker is that it enables remote access through the WeMo app. The app gives complete control over all of the functionalities like the temperature, the cooking time and the keep warm functionality. Thus, even if you arrive home late, the appliance will maintain the temperature of the meal. The slow cooker measures 9.6 by 17.2 by 13.8 inches and its capacity is six qt. A user-friendly touch control is incorporated in the design, allowing for effortless adjustments of the food preparation settings.
Several characteristics of the innovative Crockpot make it worth buying. The chance to monitor the food preparation remotely is obviously one of the biggest advantages. WeMo Slowcooker comes with a clever design. It features cool touch handles, a stainless steel body and a glass lid. The lid enables visibility inside the appliance, giving you a good idea about the amount of time needed to finish the cooking process. There are three heat settings to choose among, which makes it suitable for the preparation of a wide array of meals. Finally, the WeMo app is compatible both with iOS and Android devices, a characteristic that makes the slow cooker suitable for just about everyone, especially as a gift for tech type people.

A Few Shortcomings: The Crockpot WeMo Slowcooker review should mention a few of the product's cons in order to be completely unbiased. Luckily, the shortcomings aren't that many.
This model is one of the most reviewed online and for the most part the reviews have been stellar. A few reviewers have mentioned the fact that it doesn't have a locking lid. Also, there are multiple blinking lights used for the purpose of providing information about connectivity with the app. Some of the people who bought the smart slow cooker found the lights a little bit confusing. Other than that, the Crockpot WeMo Slowcooker does exactly what it promises. The big capacity, multiple food preparation settings and the remote connectivity make the appliance a great pick for just about every household who enjoy dining on delicious home cooked meals.
Hamilton Beach Set 'N Forget Programmable Slow Cooker with Temperature Probe

Looking for a top-notch slow cooker? It's impossible to find a good option without doing the requisite research into what is valued and what is not. The one option many are talking about is the Hamilton Beach Set'N Forget Slowcooker. Here is a detailed Hamilton Beach Set 'N forget Slowcooker review for those wondering if this is the best purchase to make or not.
Features:

Programmable
3 Cooking Modes (Manual/Probe/Program)
6-Quart Oval
Wrap-Around Heat
Temperature Probe Is Included
"Keep Warm" Heat Settings
Gasket-Sealed Lid Is Secured
Full-Grip Handles
Dishwasher-Safe
Let's start with the design. It has beautiful edges and is made from ceramic. It is pleasant to the naked eye and will fit seamlessly into one's kitchen. Hamilton Beach is well-regarded for creating robust, high-grade products and it doesn't get better than the Hamilton Beach Set 'N Forget Slowcooker. If there is one thing to worry about, it is the weight of this product. It is built with ceramic and therefore is going to weigh in the hands when being held. This is easy to get used to and the quality of the slow cooker is going to stand out.
Fantastic Settings: The three cooking modes are exceptional. They are well-designed and easy to use. Hamilton Beach has done a great job of ensuring the settings are seamless.
Easy To Use: Is it easy to use? Yes, it is. This is a great slow cooker for anyone entering into the world of slow cooking. You will have a wonderful time cooking with this appliance by your side.
Verdict: This Hamilton Beach Set 'N Forget Slowcooker review illustrates the beauty of this product. It's a robust solution. The design is immaculate, comfortable to use, and well worth one's time. Purchase this, and you won't regret it. Look for good deals on Amazon to purchases this unit for highly competitive prices.

Cuisinart 4 in 1 7 QT MCS800 Multi-Cooker
The Cuisinart MCS800 Multicooker is a cooker to make fun and a tad bit convenient tasty meals. The Cuisinart MCS800 multi-cooker function enables users to use a variety of cooking methods. Furthermore, the design of the cooker allows users to reduce the amount of time they spend between cooking. This is the ultimate double duty multi-cooker, one can get straight from browning to roasting
Features:

This cookpot comes with four programmable functions, namely slow cook, roast, saute/brown and steam. Switching between these function is as easy as one click on the function button. The cooker also comes with a timer and a temperature control function for users to control the cooking function even further. The Cuisinart MCS800 Multi-cooker comes with a 7-quart nonstick cooking pot made of aluminum. The cooking pot and the glass lead are removable and dishwasher safe.
The Good:

With regards to cookpots, this is one of the most versatile on the market owing to the multiplicity of cooking functions that user can achieve. The overall design is implemented to improve user experience and the cooking function. For instance, the pot and the lid being dishwasher safe makes it easy to clean the cookpot. The cookpot is also voluminous enough to cook enough meals for a large family.
The Bad:

No Cuisinart MCS800 Multicooker review would be truly complete without mentioning the drawbacks that the appliance has. Herein are some of the notable drawbacks that this appliance has.
- The inability to control the brightness of the LCD screen means that it can cause irritation amongst people sensitive to bright lights.
- The nonstick lining needs to be cared for extensively for it to last long.
Cuisinart MCS800 Multicooker Review Conclusion
Considering the god and the bad of this cookpot, it still emerges as one of the best in the market. It is designed to make cooking very easy as well as fast. The four programmed functions also come in handy in cooking a variety of foods.
Best Slow Cooker with Ceramic Insert
Ladies and gentlemen after tests, reviews and lots of food we are convinced that Cuisinarts produces the best slow cookers with ceramic insert. To be specific the model with a ceramic insert is the Cuisinart PSC-350-1/2-Quart Programmable slow cooker. One feature that distinguishes this cooker from the rest is it comes with a 'simmer' option; this feature mimics old low settings. That simply means that it won't burn your food like others in the market (that's a plus if you are using old recipes). If you have a large family don't worry you can purchase the 4 or 6 quart version. The smaller version serves 2-3 people and the larger 6 quart version can serve up to six people.
What truly makes this unit so great is obviously the features! It comes with a glass lid that allows you to keep an eye on your food without interfering with the process, non slip rubber feet for stability and safety, and a touch pad LCD countdown timer. It also comes with:
3-1/2 quart ceramic pot
Stay cool handles for safety
Dish washer safe lid and pot
Automatic keep warm feature
Four cooking modes
I have to say; one of the most impressive features of this model is–when it finishes cooking it automatically switches to warm. There's a lot of units for sale that don't offer this convenience. If it's left unattended after switching to warm for eight hours the cooker will automatically switch itself off. That means that you won't have to worry about your food getting cold if you are late from work.
It's very easy to use and to wash, it is also long lasting making it worth its asking price. Regularly receives 4 and 5 star ratings, easily in the top 10.
Best Small Slow Cooker
The problem with living alone is you don't have time to cook, if you are the type of person who likes experimenting in the kitchen it can be a bummer to have to give up cooking simply because you don't have time to cook. The good news is you don't have to give up cooking, if you live alone or with your spouse, my recommendation is, go for the Lakeland 1.5L slow cooker, why?
First of all this is the best small slow cooker in the market, to answer the why? The cooker is very easy to use and is very safe. The cooker serves two people making it perfect for single people or couples who are yet to have kids. It is also dishwasher safe and comes with a glass lid that allows you to keep an eye on what you are cooking. Simply put, this is the answer to meals for one person because it is convenient and saves time.
When it comes to looks the Lakeland 1.5L has a stylish look that makes it standout in your kitchen, size wise it's not that big meaning that its best used to prepare small meals. If you have a large family you should go for something a bit bigger, on the other hand if it's just you or you and one other person you should know that the Lakeland 1.5L is the best small slow cooker in the market. The cooker comes with the following features:
Three heat settings
See through lid
Dishwasher safe
If you are looking for great product at a reasonable price you should go for Lakeland 1.5L Slow cooker, trust me it is the best small cooker in the market today.
Slow Cookers in All Sizes
These are the perfect appliances for busy families that are in need of a good, hearty meal at the end of the day in the place of greasy fast-food. You can prepare your meal in your appliance and set it to cook all day and leave for work with no worries at all. Whether you are just starting out with slow cookers or have been using them for ages, the following are some of the industry's best products in different categories.
If you have a large family, or want to prepare large quantities of food, it would be wise to purchase a larger slow cooker. The Cuisinart Cook Central 7Qt Multi-cooker is the best 'large' slow cooker on the market with its 7 quart removable non-stick cooking pot. You can cook on various temperatures for up to 24 hours, this gives you plenty of time to cook the most succulent and hearty meals you could possible desire. The 7 quart size is ideal for cooking large slabs of meat like pot roasts or roast beef. Freezing left over soup or meals for later is a good way feed your family for a number of days.
If you have a smaller family and want a simple slow cooker for your family, you should try the Crock-Pot Slow Cooker in 4 quart size. This is an affordable appliance if you are on a budget and are looking for an easy-to-use model. The Crock-Pot is the original slow-cooker, and it is a good place to start if you are just starting out with. Read on our best size slow cooker reviews to know more about slow cooker sizes.
For desserts or appetizers, the Proctor Silex 1.5 Quart is a great choice. This appliance is small and doesn't take up too much space in your kitchen, but it serves its purpose well. The Proctor Silex is perfect for entertaining parties of people or just your own family, it can keep your food nice and warm without overcooking it and it can be easily stored away in your cupboard.
There you have it – a rundown on slow cooking and the best slow cookers on the market. Whether you choose a mechanical or programmable slow cooker, you'll be amazed at the results you can achieve while cooking on your schedule. Go to our home page for more great information!