Best Programmable Slow Cooker Reviews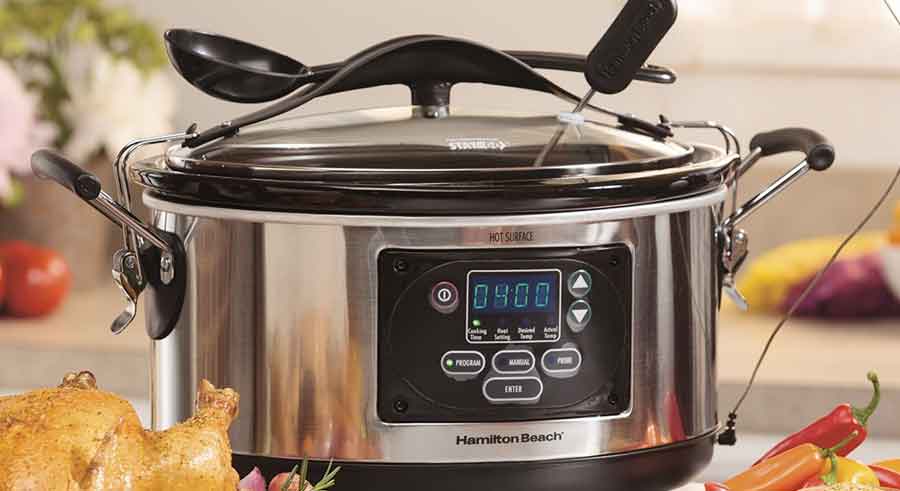 You probably already know the benefits of a slow cooker. Slow cookers are, at their core, convenient, versatile, and extremely easy to use. They cook your food for you without you having to worry as much. Compare the act of cooking over a hot stove or constantly checking the oven to putting ingredients in a slow cooker and being able to walk away until the food is ready. However, with many slow cookers, you will still have to come back to the slow cooker to adjust the settings or to turn off the slow cooker when everything is done cooking. If this is something that bothers you, then you might enjoy owning a programmable slow cooker instead. There are even programmable slow cookers out there that can cook for up to 24 hours. When looking for the best programmable slow cooker for your kitchen, keep in mind that the various models out there will have their differences.
Needless to say, slow cookers of various sizes will take up various amounts of counter space depending on how big or small they are. So, if you are buying for your family, then it's worth to know the best crock pot size for families. While most slow cookers will have a high and low setting, some will also have a setting to keep the food warm, and even fewer programmable slow cooker models will have a "medium" setting. The more settings that you have on your programmable slow cooker, the more control you have over the cooking temperature of your food. Some programmable slow cookers will have tighter fitting lids, while others will have removable pots that can be used in the dishwasher, oven, stove, and microwave.
There is no universal programmable slow cooker out there that is the best. That will depend on what you need. When you figure out what you want in your programmable slow cooker, then you can choose the one that is perfect for your kitchen.
| Model | Quarts | # of Temperature Settings | Price |
| --- | --- | --- | --- |
| Cuisinart MSC-600 3-In-1 Cook Central Multi-Cooker | 6 | 3 | |
| Gourmia DCP-860 SlowSmart Digital Slow Cooker | 7 | 3 | |
| Gourmia GMC650 11 in 1 Sous Vide & Multi Cooker | 6.5 | 11 | |
| Crock-Pot SCCPWM600-V2 Wemo Smart Wifi-Enabled Slow Cooker | 6 | 3 | |
| BELLA 13996 Dots Collection Programmable Slow Cooker | 5 | 3 | |
| Hamilton Beach Set 'n Forget Programmable Slow Cooker With Temperature Probe | 6 | 3 | |
| All-Clad SD700450 Programmable Oval-Shaped Slow Cooker | 6.5 | 3 | |
Who is the Programmable Slow Cooker For?
Even though you have heard a lot of good things about a programmable slow cooker, you still might be wondering if it is the solution for your cooking needs. The short answer to this question is that slow cookers are for everyone. Somewhere out there, there is a slow cooker that is perfect for you. If you are a mom with a busy schedule and a family who is always hungry, then slow cookers might be for you.
When you have picky eaters in the house or people with different eating restrictions, then you can use multiple slow cookers to solve this issue. You can even use 2 in 1 or 3 in 1 slow cookers like the ninja slow cooker 3 in 1 to help you make something for everyone. This will make the cooking process less of a hassle. Slow cookers are not exclusively for mothers and families. They are perfect for individuals as well. If you are a busy college student who is still learning how to cook, then you might enjoy the convenience of a slow cooker.
Slow cookers are argued to even be better because they have an added convenience in that you do not need to go back and shut off the appliance. When it is finished cooking, your programmable slow cooker will shut itself off and if it is finished cooking and just needs to keep the food warm, it can do that as well without needing you to physically do it. No matter who you are or what the size of your household is, you can never go wrong with the convenience that a programmable slow cooker offers.
When to Use your Programmable Slow Cooker
Slow cookers are stereotypically thought to be used the most for cooking meals in bulk and storing and freezing them for later use. While this is definitely one way to use your slow cooker, the truth is that you can use it for just about any occasion. You can use your slow cooker for your day to day life for breakfast, lunch, and dinner. And the slow cooker can be extremely helpful if you are entertaining guests or going to a potluck. From Christmas to watching the Superbowl, the slow cooker is really useful for any and all occasions, no matter how casual or how dressed up they might be.
If you have plenty of things taking up space in the oven and on the stove, then the slow cooker can be the perfect way to get things done. With your programmable slow cooker, you can even make your dish ahead of time. During the holidays, you can use your slow cooker to make any number of winter beverages. Use your 3 quart slow cooker to keep your cider, mulled wine, or lattes warm for your guests. Make hot chocolate in your 3 quart slow cooker and set up a hot cocoa bar with all of the hot chocolate essentials. Set out mugs and spoons for everyone to use, along with mix-in ingredients like chocolate chips, peppermint sticks, cinnamon sticks, marshmallows, and whipped cream. Be sure to read 3 quart crock pot reviews first before your purchase.
Your 3 quart slow cooker will also come in handy when you don't feel like sweating in a hot kitchen where the stove and oven are on. Instead, you can turn on the slow cooker, toss in your ingredients, and relax on your deck with a cold drink in your hand or float around in your pool.
How to Use your Programmable Slow Cooker
When using your slow cooker, you will want to keep safety in mind. Most people are fooled into thinking that no precautions are necessary with slow cookers but there are in fact many things you can do to ensure that you are using your slow cooker as safely as possible. Before you turn it on, set the slow cooker on a surface that is heatproof. While a granite or tiled countertop are safe, a wooden surface is not.
As an extra safety measure, you can place a trivet under your slow cooker to serve as a buffer between the surface and the slow cooker. Because the heat in a slow cooker will come from all sides you will also want to make sure that your slow cooker is away from the wall. Ideally, the slow cooker should be at least 6 inches away from the wall. You will also want to make sure that the slow cooker is properly filled when it is on. The perfect range for a slow cooker is somewhere between halfway full and three quarters full. You do not want the slow cooker to be so under-filled that the liquid does not completely evaporate. If you overfill your slow cooker, your food will have a risk of overflowing.
If you need to leave your home while the slow cooker is running, make sure that the setting is on low for safety reasons. Another common misconception about slow cookers is that you can always dump all of the ingredients in to the pot. This is not always true, especially for meat. In some slow cooker cook book, you will find that you still need to use the stove or oven to cook or brown your meat or some other ingredient. Even with these additional steps, slow cooking is really easy, simple, and convenient.
Best Programmable Slow Cooker Brands
When it comes to the best programmable slow cookers, there are many great brands out there. You must be wondering what the best crock pot is. Black + Decker offers a 7 quart programmable cooker that has low, high, and warm settings. It even has wires that can lock in the lid, making it easy to bring your pot out to potlucks. The large handles are also cool to the touch. For a higher budget, you might want to set your sets on the Crock-Pot 6.5 quart programmable touch screen slow cooker. In sleek stainless silver, you can cook with this model for as little as 30 minutes and up to 20 hours. While the lid is said to not fit perfectly, the removable pot can be put in the microwave, fridge, oven, and dishwasher.
The outside of the unit and the handles can get very hot. If you need a programmable slow cooker that cooks for even longer than 20 hours, then the KitchenAid 6 quart slow cooker might be just what you need. With an ability to cook at a maximum of 24 hours, this model is truly impressive. While this model's removable stoneware put is dishwasher safe, it is not recommended that you use it in the microwave, oven, and stove. Check this best Kitchenaid slow cooker reviews for more.
When it comes to using the best programmable slow cookers, you can easily make a lot more than stew in your model. Believe it or not, bread is something that you can easily make in your programmable slow cooker. You can easily make apple butter as well as various types of jams in your slow cooker. Desserts like bread pudding and cake are other options as well. The recipes that you can make are endless. Check out our All Clad crock pot reviews.

Best Programmable Slow Cooker with Timer Delay
Picture this, you leave for work every day at 6 am in the morning and you have a slow cooker, the issue is if you start your slow cooker at that time it will finish cooking early.
Depending on the type of slow cooker, it will either turn off or switch to keep warm when cooking is done.
The problem with switching to "keep warm" is that sometimes it continues the cooking process, thus you will come home to overcooked mess. On the other hand, if your slow cooker turns off there is the possibility that the food might go bad if left for long enough. So check the best crock pot with timer that will perfectly suit your need.
The only option is to therefore buy a programmable slow cooker with timer delay; I know you are worried that food might go bad. However, according to the USDA meat left out in temperatures above 40 degrees for more than 2 hours should be discarded. Check out the Hamilton Beach website for slow cookers that would keep your meat in desirable temperature.
The reason for that is bacterial growth, one way to lengthen the delay time without having to worry about meat going bad is to use frozen meat. But generally the best thing to do is to keep the delay time below 2 hours.
Michael Graves Design 6 Quart Slow Cooker Review
If you are looking for one of the best programmable slow cooker with delay timer, you should go for Michael Graves Design 6 Quart slow cooker. This luxury slow cooker was designed by "one of The New York Five" (architects) Michael graves, I have tried it, so trust me when I tell you that this slow cooker delivers what it promises. You might also want to check All Clad crock pot reviews having similar features with this one.
The only issue you may have after you purchase one is finding replacements for broken parts; I for instance have been looking for replacement for my broken stoneware liner for the last six months
The Features
Non skid feet (for safety)
Delay timer
​Tempered glass lid
3 temperature settings: high/low and warm
Illuminating power button
Simply put, this is one the best slow cookers with timer delay on the market, so get one today and start cooking.
Crock Pot Programmable Slow Cooker
Vicarious embarrassment, this refers to the embarrassment you feel when you see someone else embarrassing themselves. For instance, assume that your wife/husband who can't cook labored behind a slow cooker for 8 hours.
When the food comes out you notice that it's undercooked/burnt or it simply tastes bad.
At the back of your mind you know that if you tell him/her about it feelings will be hurt, so you decide to suck it up and eat what you have been given. What's the point of this?
The point is if you want to avoid embarrassing situations that involve your slow cooker you should get the top-ranking rated crock pot and learn to cook, if you are new to slow cooking I recommend that you go for crock pot programmable slow cookers. You may want to check over here for some amazing programmable crocks.
The awesome thing about programmable crock pots is they have digital timers and electronic controls, this means that they are very easy to use, in fact you can even program some to cook for up to 24 hours.
There is also the "keep warm" feature in some slow cookers that keeps food warm for up to 8 hours without overcooking.
What Should I Buy?
My recommendation is to buy the best rated crock pot 6 Quart Programmable Cook and Carry Slow Cooker, why? Thanks to the hinged locking lid, this crock pot programmable slow cooker is very easy to transport. This makes it perfect for entertaining or transporting food. If you're looking for an oblong-shaped crocks like this one, you can check on west bend oblong slow cooker.
This means that you will no longer have to worry about repackaging your food when travelling or when transporting it.
Other features include:
6 quart capacity (perfect for 7+ people)
Digital countdown timer that lets you program cook times anywhere from 30mins-20 hours
Removable oval stoneware
Locking lid that features gasket for extra protection against spills
Automatically shifts to warm setting when cooking is done
The best part is this crock pot is not that expensive, and as an added plus you get recipes that will help you learn how to cook.
Cuisinart Programmable Slow Cooker
There are some kitchen appliances that are very easy to fall in love with, not like you are going take it out on a date or anything.
More like something that will make your life easier, one kitchen appliance that will change the way you live and eat is the Cuisinart programmable slow cooker, how?
So far I have 7 slow cookers in my home, don't ask me why. The reason why I chose Cuisinart programmable slow cooker over the rest is how easy it is to use, there is also the parts and durability issue.
A while back I bought a slow cooker, after a few weeks I accidentally broke the stoneware insert.
That's where my problems started, in the end I switched to Cuisinart because finding replacements for their slow cookers is as easy as visiting a big box store or visiting Cuisinart website. Oh and their products are highly durable.
Cuisinart 3.5 Quart Slow Cooker Review
Cuisinart has a number of different slow cookers; however, if you are looking for something that's perfect for a small family you should go for Cuisinart 3-1/2 Quart programmable slow cooker.
The secret this slow cooker has up its sleeve is the elusive simmer option, you see the thing is most slow cookers on the market only have high/low and keep warm. This means that most slow cookers are twice as hot as the old ones. You can grab more info about this product in this weblink.
The advantage you will get if you buy this slow cooker is, the simmer option mimics old low settings thus you can use old recipes without worrying about overcooking or burning your food.
Cuisinart programmable slow cooker, 3-1/2 has the following features:
24 hour LCD countdown timer and touchpad control panel
4 cooking modes and automatic keep warm setting
Non slip rubber feet and stay cool handles (for safety)
Dish washer safer lid and pot
If you check Amazon you will find that this model is flying off the shelves, if I were you I'd get one today before stocks run out.
KitchenAid Programmable Slow Cooker
Forget about Trump or Hillary and think about how easy and "cheap" your life would be if you choose to buy a kitchenAid programmable slow cooker today.
The first benefit you will get is that you and your family will never have to eat take out again, unless you want to. The thing is, if you do the math you will find that it is cheaper and healthier to eat home cooked meals than it is to buy readymade meals.
Why kitchenAid Programmable Slow Cooker?
Programmable slow cookers give you freedom, this is because you have more control over the cooking process thus at the back of your mind you will always know that the slow cooker will do what you want it to do.
KitchenAid 6 Quart Slow Cooker Review
If you want a slow cooker that works like it's supposed to, you should go for one of the popular slow cooker today, KitchenAid 6 Quart. Slow Cooker with easy serve lid.
This stainless steel slow cooker will change the way you live and eat, the 6 quart capacity makes it perfect for big busy families and the best part is it has 24-hour programmability.
This simply means that you are in charge not the slow cooker; the easy to read digital display ensures easy viewing and lowers the possibility of mistakes. Some other features include:
Automatic keep warm setting
4 temperature settings
6 quart removable oval shaped ceramic insert
24 hour programmability
Digital display
The four temperature settings low, medium, high and keep warm are there to ensure that food comes out the way you want it to. The only catch is you will have to learn how to cook.
If you have a family of 5+ get kitchenAid Programmable slow cooker today, trust me it will save you lots of cash in the long run and a good value for money.